Banks withholding money. UK banks are known for their unfair handling of their customer's money. My recent experience with two UK banks, Halifax bank and HSBC bank had just proved this practice.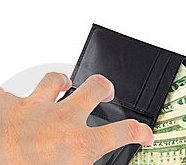 I had deposited cash into my account in two banks which supposed to go through right away, unlike checks that takes the banks days to clear (this practice should also be banned, because nowadays the checks  clear instantly as soon as a button is pressed on the computer).
Now it's 3 days later and the cash deposits are still not available for use at either bank. On top of that in the UK banks have different class accounts. Basic, Standard, Current, Phone account and a myriad more. These class accounts are might or might not be handled by the bank branch. (this also should be banned, because it is used for nothing else then taking advantage of the customer's money for the advantage of the bank which use this money for days without paying for it).
When you try to call a bank about your Money, they hate to give out any kind of information. Push you from one person to another on the phone saying "uhhhh, ummmm, I have to check with this or that, or could you call back later the person isn't here you need to talk to", etc. Never a straight answer or knowledgeable employee.
Or an employee of a bank even go as far as to suggest that if you are dissatisfied you can close your account. Which is true, but in the UK all the banks operate the same shitty way, using the same shitty method and system and employing people with the same shitty attitude.
How can a a bank allow an employee to chase customers away? How can a bank allow soo untrained employees who can't even answer a simple question.
This is Britain. If you live in Britain you have to accept that people don't care, employees not there to work but to collect salaries. Banks hate to employ anyone and the only reason they do is because they have to be accountable for other people's money and the owners can't manage it by themselves.